10 Essential Goals for Website Redesign (Don't Miss on Anyone!)
BLOG / Web Design 13 March 2023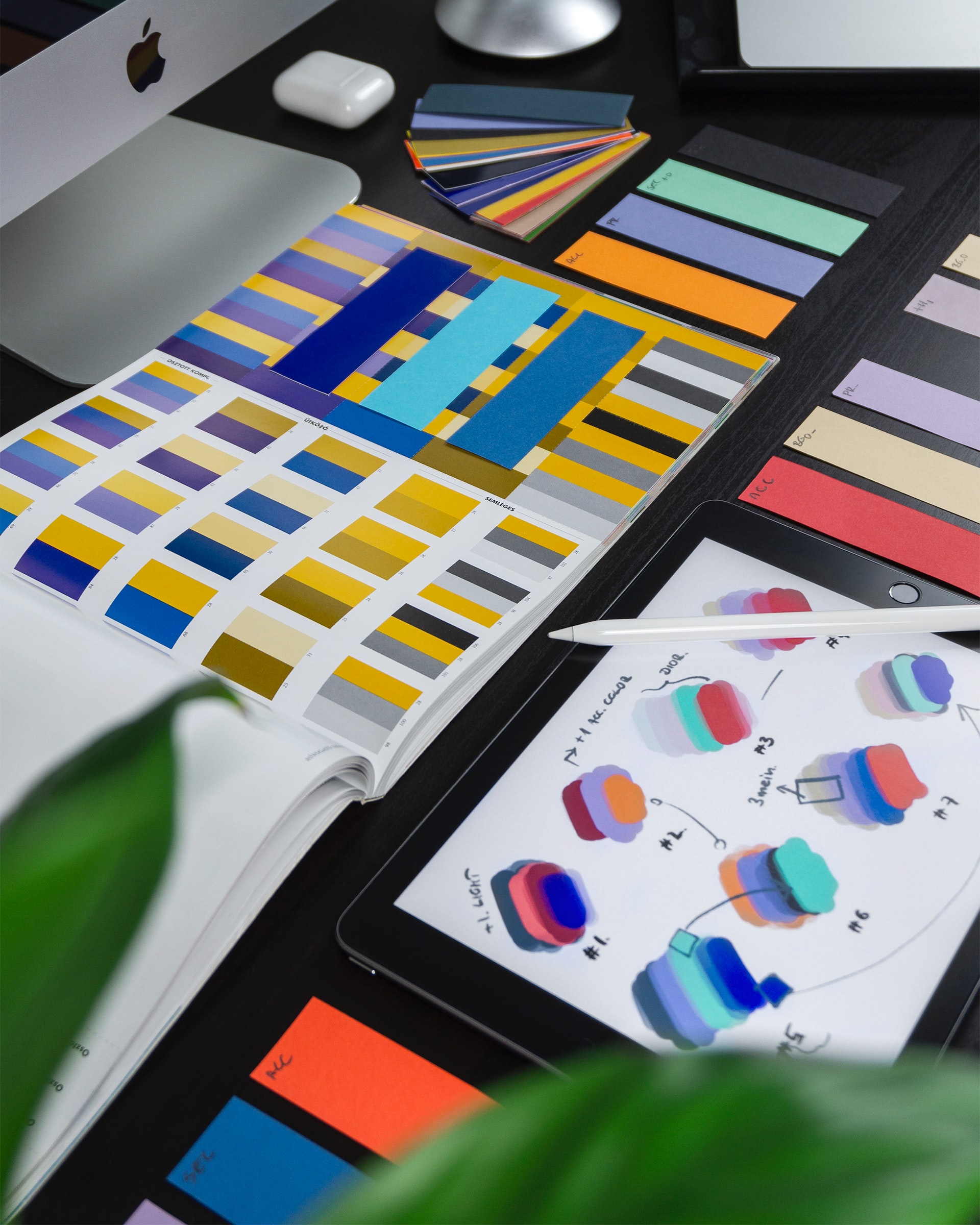 Wanting a better website shouldn't be how you approach a website redesign process. You should appoint goals for the website redesign to get the most value for your money and time.
The objectives of a website redesign can be different from one another. Yet, the most common ones usually revolve around improving conversion rate, customer satisfaction, traffic, sales, and so on.
So, today, we'll take an in-depth look at the website redesign process… Why it is important, and the business goals you should achieve with it!
What is a website redesign?
A website redesign is a process that involves changing the different components of a website, such as content, format, navigation, structure, etc.
We can divide a website into two parts: Front-end (visible to visitors) and back-end (for management & functionality)… So, the scope of the website redesign can cover the front-end only, the back-end only, or both! That depends on the situation & objectives.
For instance, if the website is already utilizing a UI-friendly CMS such as WordPress, there may be no need to change the back-end.
But if the current website is built on different or open-source technologies like Drupal 9 and Firebase, then a complete website redesign may be in order!
Many businesses invest fairly in website redesign as their traffic grows… Then there are those who opt for a website redesign for a rebranding initiative, and so on.
Regardless of the reasons behind the website redesign process, one thing's for sure… Starting such projects is a massive undertaking! Especially since the new website design is in line with the brand image and the outlined objectives of the website redesign.
In fact, research tells us that around 50% of consumers believe a website's design is significant for a business's brand.
This means that your business's website is as important as your products and services themselves.
Here are 10 business goals to opt for with a website redesign
Not sure what you want to achieve with a website redesign? Although a web design agency will probably help you to brainstorm some good business goals, it is still beneficial to have proper information about the subject beforehand.
This helps you get the most out of this process and improve your enterprise performance as a whole.
Likewise, business goals differ from one enterprise to another, as it depends on a lot of factors; say, the audience, industry, and business model.
But, there are still quite a few universal goals that can be applied to any website
So, without wasting time, Here are 10 goals for website redesign that you should aim to achieve:
Increased brand awareness
Brand awareness is a measure of how effectively you educate your audience about your products/services. It is also an important factor in political, government, and non-profit websites which are information-based.
The problem with brand awareness is that it's not so straightforward; it's not clear how you can measure it or apply certain KPIs on it, like with conversion rate or bounce rate.
So, the only reliable way is to survey the users before and after the process of redesign.
For example, you can set a goal to increase brand awareness through your website by 5% after the website redesign.
As for how one can increase brand awareness through a website, there are a lot of things that can be done!
For starters, update your content so that it is more helpful and engaging to the users. When we talk about content, it can include text, images, and videos through which one can educate the visitors.
Another method to increase brand awareness is ensuring that your branding brand identity is consistent throughout the website.
For example, the McDonald's website uses yellow color consistently throughout the website, which is the same color used in the company's logo. By choosing a particular color system for the website, McDonald's is trying to establish & increase brand awareness!
While McDonald's might be a little of a wild example, as it's a real estate/Restauration business, the lesson is clear: maintain the same visual choices throughout your website.
Improved brand reputation
Improving the brand reputation is one of those website redesign goals that can ultimately affect your business's bottom line.
Let's say you want to hire an insulation company, would you choose a website that looks good and is easy to use, or will you go with a website that looks ugly and feels like it was made 10-20 years ago?
Of course, the answer will be a website that is good and easy to use.
So, another goal that you should achieve through a website redesign is to improve your brand's reputation.
For example, a burger shop is represented by the location, food quality, sitting arrangement, and the general environment in the store.
That's how the burger shop is representing the brand's reputation in the real world. Just like that, a website represents your brand in the online realm.
This means that your new website design must not only maintain the current brand reputation but improve it!
Increase traffic
Traffic is the lifeblood of any website and is equivalent to the foot traffic in a retail store.
I mean, what's even the purpose of having a website if no one is even visiting it in the first place?
Without traffic, one can't accomplish even a single business objective; there'll be no revenue, sales, conversion, and so on.
So, when you think about the website redesign, always make sure to have a goal of increasing the web traffic.
Also, it is very common for websites to actually see a drop in their traffic after going through the redesigning process. The reason for this traffic drop can either be that the new website design is not as SEO-friendly as the earlier one, or simply search engines need time to index and understand your website from the start.
If the lost traffic exceeds 40% before it starts peaking up again, it's high time you start saving your website from drowning in the forgotten result pages. Something's up, and you need professional help to figure it out.
Furthermore, a website that is non-functional, full of errors, or doesn't look good will not send a good signal to the end user.
The visitor, then, wouldn't want to revisit the same website again, let alone recommend it…
This results in more expensive customer retention, more expensive lead generation, and therefore, a less beneficial business!
On the other hand, a website that looks professional and neat will encourage a user to stay longer. With a great digital experience, chances are the user may come back to the website and recommend it to others!
Improved domain authority
Another business goal that can be achieved through website redesigning is increasing the domain authority of your website. A domain authority, in a nutshell, refers to the power your website has in the SERP compared to all the websites on the internet. A powerful website like YouTube would have a domain authority closer to 100, while a newly created website would have to struggle and build up from point 0!
There are many SEO tools, including Moz, through which one can measure a website's domain authority…
But at the end of the day, these are just third-party tools, and they give close estimations rather than factual digits.
Your precise domain authority is only known to Google algorithms!
This ambiguity means that before committing to a redesigning process, proper care must be given to the SEO aspects of the website… You want to ensure your DA won't drop off after an update!
This includes making a list of high-ranking content & making efforts to ensure that they remain optimized for the search engine ranking post-revamp.
For example, changing the permalink structure of your website all of a sudden will render the backlinks ineffective as they'll be pointing towards non-existent pages. This may end up lowering your DA, reducing your traffic share, and your overall website's performance on search engines.
Furthermore, changing the title tags, sub-headings, or the structure of the content can also drastically change how the web content is perceived by search engines, which ultimately affects the SEO!
Improving domain authority is a crucial objective when revamping a website. However, get proper consultation to ensure you won't end up getting reversed results!
Better UX
UX means the user experience of a visitor on your website, and that's also one of the things that should be improved through a redesign.
UX refers to the overall experience a visitor gets when visiting a website. It includes both the design and aesthetic features, but also the functionality and the ability to get-the-job-done.
So, the next time you're in touch with a web design agency, ask them about how they can improve the user experience on your website.
For instance, at CDC, we ensure the text of CTA buttons is clear and readable. We do so by picking good fonts (think "sans family"), and clear action texts ("Request Demo" to send to a demo page)…
We also ensure the color choices are meaningful, salesy, and user friendly at the same time. Here are some recommendations from our team: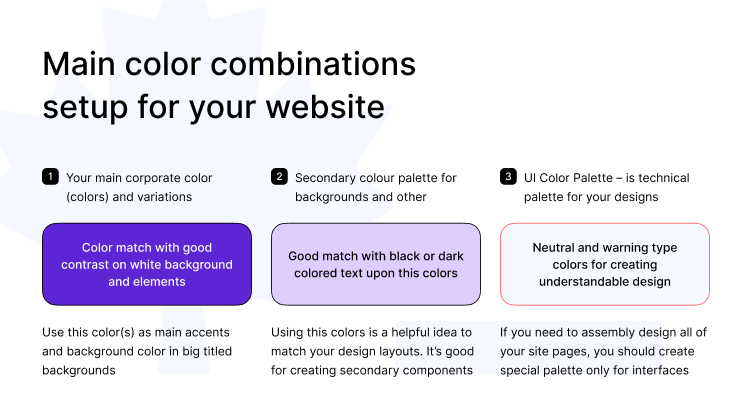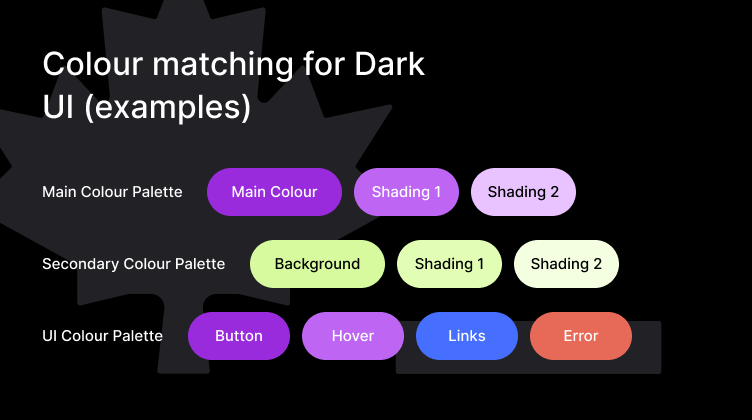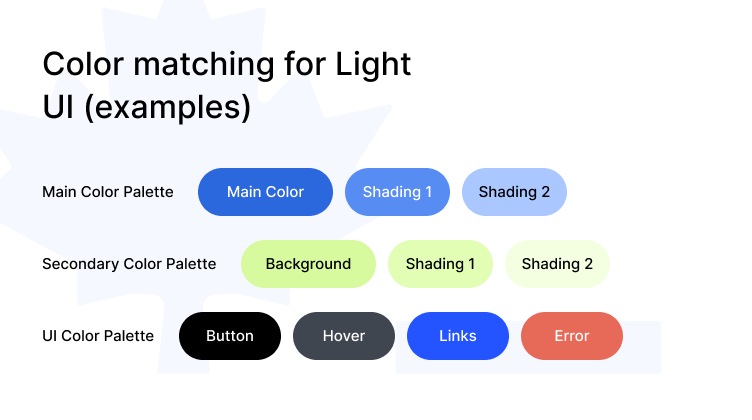 But for your information, there are a lot of factors that may lead to poor UX; hard-to-read fonts, mediocre color combinations, slow-loading websites, difficult navigation, and so on.
Still, looks aren't everything in UX! If a website's functionality is below necessary, its UX will still be deemed mediocre even with the greatest and most appealing looks!
Accordingly, an important business goal to incorporate into your web redesign process is to improve the UX comprehensively.
Website engagement is a measure of how a visitor engages with different parts of your website.
One can measure website engagement through different methods, such as how many visitors opt for email subscriptions, leave a comment, interact with support, read content, and so on.
In short, website engagement is an important metric and must be a part of your website redesign goals!
Besides being important to the end user, website engagement is also an important metric for search engines such as Google.
For example, if a visitor clicks on your website from a Google search and then hits the back button within 2-3 seconds, then that's a sign that they didn't interact with your website at all.
So, in a sense, website engagement is an important factor for the end user and SEO alike.
Again, another goal that should be a part of your website design goals is increasing website engagement.
Higher conversion rates
Conversion rate is a measure of how many web visitors convert into a customer of your business. For example, if your website receives 1000 visitors & you get 10 customers from that much traffic, your conversion rate will be 1%. In general, the higher the conversion rate is, the better as that means more visitors are converting into paying customers.
So, there are a lot of elements on a website that can dictate whether you will have a low conversion rate or a high one. Low-quality or outdated content on your website, per se, urges a visitor to leave your website before converting into a customer.
Similarly, the use of the wrong color scheme or incorrectly placed CTAs can also drop your conversion rate drastically.
And last but not least, sending a wrong signal through your branding or a problem in the sales funnel can also drop your conversion rate.
Following, increasing your conversion rate is a hands-down major goal to achieve with a website revamp, especially for ecommerce websites.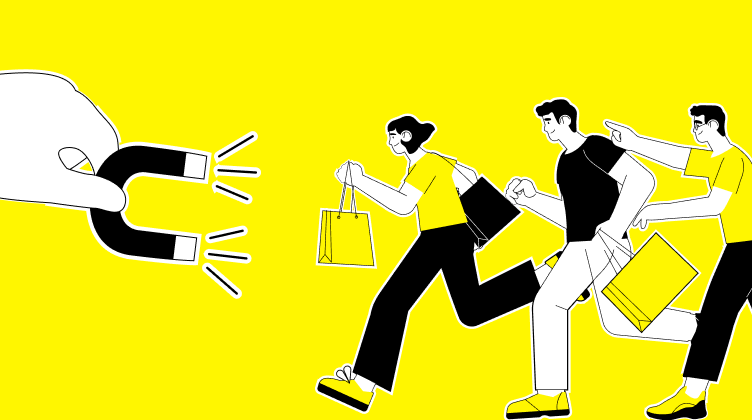 Many B2B businesses use their websites as an inbound lead generation tool in their overall sales funnel.
Chances are, you're no different! Assuming so, increasing inbound lead generation should be a goal to accomplish with a website redesign.
So, to establish a baseline, it is best to look at how many leads you are getting from the current traffic and figure out the percentage terms.
After establishing a baseline, you can make a goal of increasing the generated leads from the same amount of traffic.
For example, if you are generating 10 leads from 500 visitors, then you can opt to generate 20-30 leads from the same amount of traffic after the revamp.
Some of the methods for generating more leads include designing good CTAs, positioning of CTAs, adding forms on high-traffic pages, and so on…
More importantly, using colors that promote trust and taking action can also help in generating more leads.
Increased sales
At the end of the day, it is the sales that keep a business running, whether it is online or offline. That's why another business goal you need to consider is sales.
Once again, start by measuring your sales numbers from the current traffic & then make a plan with your web design agency on how to increase sales through a new website design.
There are a lot of tools at the disposal of a web designing agency to increase sales. And since sales involve buying a product/service through the website, the first factor to consider is trust.
This can be accomplished using SSL and prominently outlining the privacy policy and data handling procedures.
Furthermore, using colors based on your industry and audience variety can also help you increase sales. And last but not least, an optimized sales funnel and good UX are also important for increasing sales.
Increased customer satisfaction
A website that's not up to the customer's horizon of expectations eventually leads to decreased sales and revenue. And this is the last thing any business would want!
That's why businesses pay close attention not only to maintaining customer satisfaction but also improving it.
If we talk about increasing customer satisfaction through web design, the first thing is to have a functional website (yes, again!).
A website that is adequately usable and easy to operate will always lead to improved customer satisfaction.
Similarly, the looks of a website can also dictate how satisfied a customer is…
For example, a website that uses a poor combination of background color and font color will make it difficult for customers to view information. As a result, it will decrease customer satisfaction with your website.
And then again, a business goal to consider is increasing customer satisfaction. It will help you a lot in the long run.
A simple way to measure customer satisfaction is to ask customers' opinions through a quick survey on returning visitors and your email subscribers and ask them about the new website design.
How to set goals for your website redesign?
There are a lot of ways through which you can set goals for website redesign… But the easiest method is to use the SMART Goals Method. It's a popular method for setting goals & it can be applied to anything, including redesigning websites.
SMART website goals are/should be:
Specific (Improving traffic by XX% rather than saying I want more visitors)
Measurable (lowering bounce rate from 50% to 20%)
Achievable (Improving conversion from 5% to 10% – However, trying to achieve a 70% conversion rate is far fetched!).
Relevant (Setting goals that are relevant to your industry and current trends).
Time-based (Setting a reasonable time limit to achieve goals rather than spraying & praying).
Using this strategy, you can come up with more goals for your website redesign other than the ten mentioned above!
Why is redesigning your website important?
If your website goals and objectives are being met, then there may be no need to go for a redesign at all. As they say, if it works, then it ain't broken… This rule also applies to the website redesign process as well. Accordingly, a website redesign is important to ensure the website is well-functioning and serves its purpose well.
Well, there actually can be numerous reasons… But every reason can be boiled down to a single goal: to make your website better in every way possible.
We have listed some of the benefits below, which highlight the importance of a website redesign:
Fast loading speeds
Getting your website redesign done through a reputable agency, grants you a fast-loading website. These days, even search engines do not like slow-loading websites, let alone visitors!
Furthermore, a slow-loading website can open doors to a lot of performance issues, such as low conversion rate, high bounce rate, decreased revenue, and the list goes on.
So the first reason why website redesign is important is that it helps you get a fast-loading website!
Mobile-friendly design
If your current web design is non-responsive (not mobile-friendly), that's an extremely important reason to go for a web redesign.
The share of mobile traffic has already dominated all the other traffic sources combined! So, if your website is not mobile-friendly, then you are missing out on a significant preponderance of traffic.
A non-mobile-friendly design can also cause problems if you are spending money on SEO and advertising.
For starters, Google & other search engines will not show your websites on the front page of mobile searches.
Then, you will be missing out on the traffic coming from mobile devices if you are running paid advertising campaigns!
Rebranding
If your business is undergoing a rebranding phase, then that's also a solid reason to go for a website redesign. Think about it; a website's layout is your online trademark and thus should reflect up-to-date brand values.
It is very common among businesses to go through rebranding, which in turn leads to the process of a website revamp as well.
Improve UX
Another reason why website redesign is important is that it helps you improve UX (yep, we're mentioning it again). And the process of improving UX starts by looking at your competition.
Once you have looked at your competition and what they are doing, the next step is to ensure that you provide a better UX than they do!
Furthermore, web technologies and industry trends continue to evolve endlessly…
So, if your website design is several years old, then that's a strong enough reason to go for website redesign.
New features
The realm of web design is ever-changing, which means that older websites are missing out on new features.
Furthermore, a website with non-functional features can lead you to lose potential customers.
If you look at a website that is several years old vs. one that was made recently, the results will be very apparent.
In general, new websites offer a lot of new features which are totally nonexistent in the old ones. In addition, a lot of web technologies also go redundant, including Adobe Flash…
So if your website was built using Adobe Flash, a lot of functionality will no longer be available for you.
So, another reason why the web redesign process is important is that it helps you to keep your website functional while also introducing new features!
Final thoughts
The process of web redesign is a big task that requires a lot of thought processes and back-and-forth communication.
Website owners must also have clear goals for website redesign and what they want to achieve through the website redesign process. This can help in setting clear guidelines on what's expected of the web designing agency & will also ultimately help you to get more done from your website.
Different websites will have different goals for their website redesign project. But there are some goals that are universal & can be applied to any website. So if you are short on ideas, look at the ten website design goals mentioned above again!